About Christelhoi holiday home
Description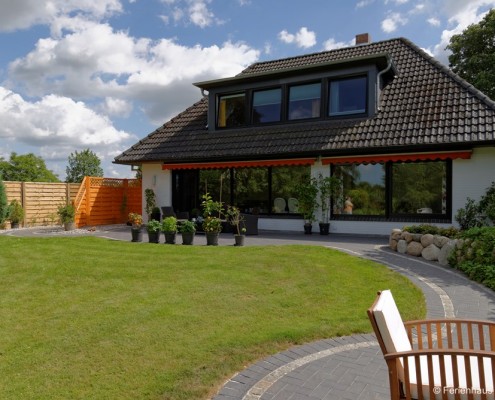 The beautiful holiday home is located on Christelhoi farm in the tourist region of Schleswig-Holstein on the outskirts of Satrup. Satrup is part of the municipality Mittelangeln in the district Schleswig-Flensburg. The town is located in the triangle between Flensburg to the north (15km), Kappeln to the southeast (26km), and the city of Schleswig to the south (23km), right in between the Firth of Flensburg, Schlei, and Baltic Sea.
The holiday home can be found at the top of Christelhoe road, leading to Christelhoi Farm. The holiday home with a living area of 135 m² over two floors was completely renovated in 2014/2015. The house was renovated with natural building materials suitable for allergy sufferers. It sits on a well-tended property of 1,000 m², framed by mighty, old trees and is far away from noisy thoroughfares. At our Christelhoi holiday home, you can find the peace and relaxation you are looking for on your holiday. The large garden of our holiday home is completely enclosed by trees, bushes, borders, flowers, and rhododendrons. An oasis of relaxation.
Our Christelhoi holiday home can house a maximum of five people. The 17.2 m² large reading room on the ground floor can be converted to hold an additional nursing bed (extra costs on inquiry). The adjacent wheelchair accessible shower bath with toilet and sink is perfectly suited for this. In addition, the house is accessible via a ramp.
The house offers our guests 3 bedrooms (optionally 4), 1 kitchen, 2 large bathrooms, 1 large reading room, 1 large living and dining area, as well as 2 paved terraces (one with awning). Reading room and living area look out over the beautiful terrace and the large garden with its old trees.
We furthermore provide our guests with free WLAN. Pets are allowed up to 40 cm height. Smoking is not allowed in the entire house.
Here, families of all generations can experience peace and relaxation to "recharge their batteries", no matter the season.